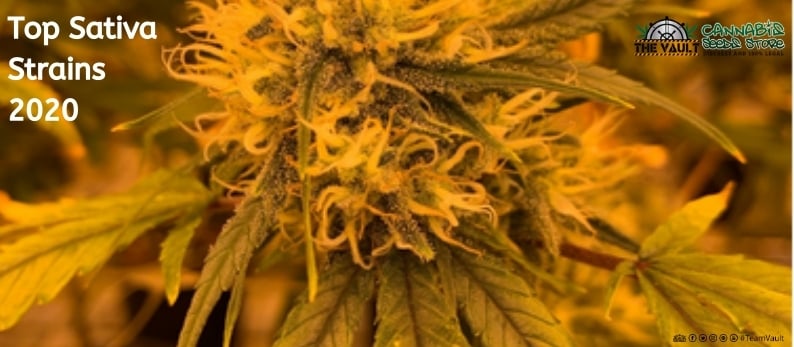 It's safe to say that this year we could all use a little pick-me-up. There is nothing quite like the world burning to stress and depress the mind, so it's always wise to give it a little break. Sativa strains tend to be psychoactive and have an upper effect, perfect for spending the day in nature or watching comedies and eating snacks. Whatever helps slough away the general malaise and overall sense of impending doom. The following strains are some of the best Sativas available on the market that I feel are well suited to 2020.
AK-47
Starting off with an extremely strong candidate that is often used medicinally to help with the symptoms of depression, stress and mental fatigue. This strain can be a little too strong in some cases, but if she is well managed she makes an excellent daytime medication. Of course, it is also great for the days when just not really experiencing reality feels like the best option. She also works well as a physical painkiller, really letting the body chill out while the mind takes a little holiday. She grows indoors easily but can be a bit tricky in an outdoor setup.
Cosmic Queen
This royal lady is a little new to the scene, but she has certainly made an impression. Not only is she an absolute joy to grow, but the euphoria she bestows is second to none. Cosmic Queen is known for making one feel as though they are in zero gravity. Weightless and worry-free in an infinite cosmos, just bouncing from thought to thought happily. This strain is ideal for anyone who is dealing with chronic depression or anxiety that just cannot be shifted by normal methods. She is even beautiful to look at with sharp, bright colours and a starlit dusting of resin.
Amnesia Haze
It's not hard to imagine what this strain is famous for. This award-winning super strain will knock stressful thoughts and painful what-ifs into oblivion. This strain is a little more challenging to grow than some of the others, but it is definitely worth the extra effort. This flavoursome strain gives off strong tropical fruit vibes with hints of lemon and aniseed. The effect is smooth initially and the high creeps in gently before rocketing up to full amnesia, so it's definitely one to be careful with. This strain needs warmth, so will work well when grown indoors or when grown outdoors in a warm climate.
Trainwreck
This is another extremely hardcore Sativa with a devastating effect that is sure to lighten the mental load. The buds are beautifully sticky with dense colas and a lemony/woody scent. The effect is, well, a bit like being hit by a really lovely train. It has an extremely powerful cerebral and physical effect that is perfect for just lying back on the couch, eating snacks and watching cartoons or however you relax. This strain is great for growing outdoors as she can get pretty tall, but a skilled grower could manage her in an indoor setup. This strain is not recommended for novice smokers.
Super Lemon Haze
Super Lemon Haze is a fantastic strain for dealing with depression, anxiety and stress. She has an impressive THC level of 23% which gives an uplifting cerebral effect. This strain is ideal for socialising, responsibly, and basically any creative activity. The high is crystal clear after the brain works through the initial cloud of pure THC haze. This is a great strain for writers, creators, artists and anyone who just wants to add extra pizazz to their circuitry. Since this strain is a Sativa she can get pretty tall and so will grow well outside, or inside with lots of vertical space. She is pretty fast flowering and not too hard to grow, rewarding gardeners with a bright orange plant and an incredible lemon scent.
Jack Herer
Jack Herer is a strain of great renown that was named after the author of 'The Emperor Wears No Clothes' and cannabis activist, Jack Herer. This strain is powerful, uplifting and one of the few strains in the Netherlands to be considered a legitimate medicinal strain. The effect is pure mind and body energy with an overlying chill that will shoo away anxiety. This is another great strain for chatting, creating and chilling. This baby is also a multi multi-award winner, taking home more High Life Cannabis Cup awards than any other strain on the market. It is pretty easy to grow and will do well both indoors and outdoors.
Hawaii Maui Waui
One thing that I'm sure many of us have found lacking this year is motivation. Whether it be to make something new or just enjoy life and relax for 10 minutes, the push just hasn't been forthcoming. This strain is recommended especially for motivation and creativity as well as to battle anxiety and depression, basically the perfect strain for 2020. Her flavours are just as pleasant as her high, a mix of sweet citrus and a real classic hash base. This strain is so popular that basically any good strain to come out of Hawaii is placed under its name. She is easy to grow and will work well both indoors and outdoors, taking around 12 weeks to flower.
Thai Chi
I'll finish up this list with something happy, zen and soothing just like its namesake. Thai Chi is a great strain for those of us who are prone to anxiety and paranoia, especially when smoking. The high is crisp, clear and delightfully social with a supreme overall relaxation that just lets problems melt away. Even the scent is a relaxing mix of incense and cured wood, deliciously spiced and calming. Thai Chi can be a little harder to grow, but she is very resistant to temperature fluctuations and will give amazing yields.
These strains are all basically guaranteed to lift spirits, improve quality of life and just make people a good deal happier. Basically, the best way to try and survive everything 2020 throws at us.
The Vault Cannabis Seed Store
Why not head on over to The Vault Cannabis Seeds Store's CBD range and pick up some medical cannabis seeds now, whilst taking advantage of the discount codes VAULT15 for 15% of your order total and don't forget to check out our discount cannabis seeds page for all the latest offers, promos and competitions!

Make sure you never miss another Vault promo and sign up for our newsletter at https://www.cannabis-seeds-store.co.uk/the-vault-newsletter
Remember: It is illegal to germinate cannabis seeds in many countries including the UK. It is our duty to inform you of this fact and to urge you to obey all of your local laws to the letter. The Vault only ever sells or sends out seeds for souvenir, collection or novelty purposes.