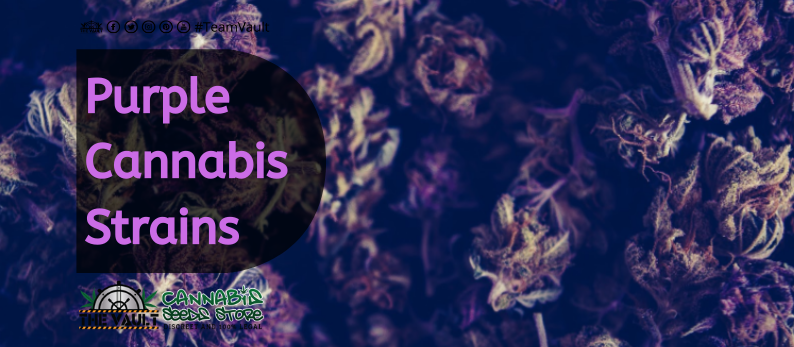 There are several different colours of cannabis, granted the primary colour is green, but there are a number of fantastic strains that are placed into the purple category. Purple cannabis is one of the most popular strains amongst the choosier smokers. Usually, purple strains took on this hue because of the ambient temperature being low. These days there are many strains that have been specially bred to take on the purple colour. There are many different and varied strains that can be placed into the purple category, this is just a few of the best ones.
Grandaddy Purple
Let's start with a classic right off the bat, one of the best known purple strains on the market. Grandaddy Purple is a powerful Indica famous for it's amazingly deep and bright purple colouring. This strain is also a multi-award winner with a rich history. The scent definitely mimics the stunning colour, a combination of wine and berries that makes the entire event of smoking luxurious. The effect is powerfully sedating with a full-body relaxation that makes it ideal for those suffering from insomnia, anxiety, nausea and pain. Grandaddy Purple grows well indoors or outdoors and has an incredible THC content of 25 – 35%.
Purple Kush
This pretty baby is another strong Indica strain, a combination between Hindu Kush and Purple Afghani. The effect is just about the most Indica it can be, an intense full-body, long-lasting relaxation that permeates every inch of the skin. In fact, she is so powerful that she is not really recommended for long term medical use. However, for those who are experiencing stress and just need a bit of time to space out. The beautiful purple buds are covered in lovely THC crystals that make the plant look like a night sky. This strain will grow well indoors and outdoors making it ideal for all sorts of growers.
Sour Grape
Once again this strain has a relatively self-explanatory name. She is a cross between Sour Kush and Grapefruit. These two strains coming together create something truly special. A sweet yet sour flavour with some beautiful colours towards the end of flowering. Sour Grape is a cross of Indica and Sativa which gives her a happy yet relaxing effect which is perfect for a comfy afternoon in front of the tv. This strain has a short flowering time and a high THC level of around 20%. Sour Grape can grow well indoors or outdoors and produces an impressive yield if she is looked after well.
Purple Urkle
This strain is best known for its amazing flavours as well as its beautiful colours. She also has a very mysterious lineage but it is likely she comes from the Grandaddy Purple or Mendocino Purps lines. Wherever she comes from doesn't really matter because she definitely stands up on her own. Purple Urkle is an Indica and so the effect is very relaxing if a little couch-locky. However, she is great for those suffering from anxiety, insomnia, depression, stress and pain.
Mendocino Purple Kush
This incredible strain is famous for its amazing colour and impressive lineage. It is a cross between the classic Mendocino Purple and Purple Kush, twice the Purp genetics. This strain is robust and easy to grow with fantastic yields of powerful buds. Mendocino Purple Kush is also a multi award winner, hardly surprising given its powerful effect and incredible variety of colours from bright green to deep violet. It is also famous for its relaxingly earthy flavour that perfectly compliments the soft but powerful high.
Purple Trainwreck
Most of us are already aware of the famous Trainwreck and its intense power. Now it has been combined with another heavy hitting superstar, Mendocino Purple. The result of these two super strains being combined is truly something worth celebrating. Though the THC level usually sits at around 17% the effect is extremely uplifting, happy, intense, creative and cerebral while still providing a bodily relaxing stone. She is definitely the pinnacle of a day time strain, and excellent for social gatherings. The strain is Sativa dominant and to fit its beautiful purple colouring it has a light, fragrant scent with hints of lemon and pine.
Purple Dream
Purple Dream is definitely a strain that lives up to its name. This baby is a combination of Blue Dream and Grandaddy Purple, two excellent strains. Purple Dream takes on the enchanting Indica effects of Grandaddy Purple and the impressive yields of Blue Dream. It is also considered to be an excellent pain reliever and all round medicinal strain. It can also help with anxiety, stress, depression and is just perfect for relaxing in the evening. It provides a feeling of true and genuine wellbeing. This particular strain is regular but still easy to grow. It produces impressive yields of dense resin coated buds.
Purple Stilton
This fancy little strain is a combination between Purple #1 and Blue Cheese. Due to the Cheese lineage she is definitely more Indica than Sativa. The high is a full and intense body stone that is absolutely perfect for couch or bed time. Since she is also high in CBD she can be used for medicinal purposes. The buds and the leaves both turn a stunning blue colour during flowering, especially if they are grown in colder climates or exposed to cooler temperatures. This version is autoflowering which means she will flower automatically, funnily enough, and will be shorter than other plants. This means she is great for balconies or indoor growing spaces.
As usual these are just a few of the many wonderful purple strains that are available in all sexes and flowering types. Its always best to do plenty of research into what a strain will need and what it will give before selecting one to be the next growing project.
Remember: It is illegal to germinate cannabis seeds in many countries including the UK. It is our duty to inform you of this fact and to urge you to obey all of your local laws to the letter. The Vault only ever sells or sends out seeds for souvenir, collection or novelty purposes.
Make sure you never miss another Vault promo and sign up for our newsletter at http://goo.gl/Bt2Ba2