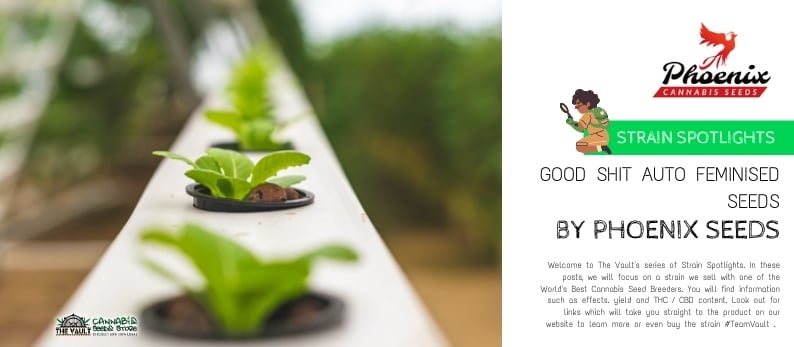 Name: Good Shit Auto Feminised
Breeder: Phoenix Seeds
THC Level: 15% – 20%
Effects: Powerful, Relaxing
Yield: Medium – High
Flavour: Smooth, Luxurious
When it comes to strains that have names like "Good Shit" it can be difficult to know what's the real deal and what is hubris. This strain is exactly what it says on the tin, it really is that good shit. This strain is smooth, delicious and balanced while also being extremely easy to grow for all levels of grower. Good Shit Auto Feminised is super accessible and always a lot of fun.
Background
This strain was created by combining Good, Shit and Auto Dude. The strain is predominantly Sativa but with just the right hint of Indica that comes through in how the plant grows. Namely in the fact that the plants aren't too tall but do create a lot of side branches. The plants are also just beautiful to look at with dark green leaves, bright purple buds and a thick coating of crystal resin. This is definitely a special strain that delivers in every category.
Effects
Good Shit Auto Feminised has a smooth and rich effect that slides the smoker gently into a velvet cocoon. It's a potent strain with an extremely relaxing effect without being too soporific. A bit like slipping into a bubble bath after a long day with a glass of wine, or curling up in a super soft blanket. This is an excellent strain for anyone who is suffering from stress, anxiety or depression as the effect never veers into paranoia. Good Shit also works well as a nighttime strain, even though it won't make users sleepy it is perfect for chilling out an anxious brain that might be stopping a happy sleep.
Flowering Time and Yield
This strain is autoflowering so it has a shorter flowering time than most. It will grow well indoors or outdoors, but outdoors growers need to be careful of mould and fungus as well as pests due to her dense structure. Indoors it grows extremely well in Sea of Green and will only take around 9 weeks to flower. Growing in this way will also increase the already moderate yield. This strain also has an almost flawless germination rate which makes them ideal for new growers. Remember that growers will not need to change the light cycle to cause flowering, this strain will do it all on its own.
Flavour
The flavour of this strain is hard to describe but it is extremely rich with a hint of incense. It has the kind of scent that merits a huge inhale when the bag is first opened. The flavour is rounded and smooth to match the way the smoke feels.
Remember: It's illegal to germinate cannabis seeds in many countries. It is our duty to inform you of this important fact and to urge you to obey all of your local laws. The Vault only ever sells or sends out seeds for souvenir, collection or novelty purposes. All of our content is provided for educational purposes only.
Would you like to add some Good Shit Auto Feminised to your collection?
If you'd like to add some of these powerful seeds to your collection, The Vault is giving away an amazing 10% discount off Good Shit Auto Feminised, when you enter the code: Thanks10 in the cart!