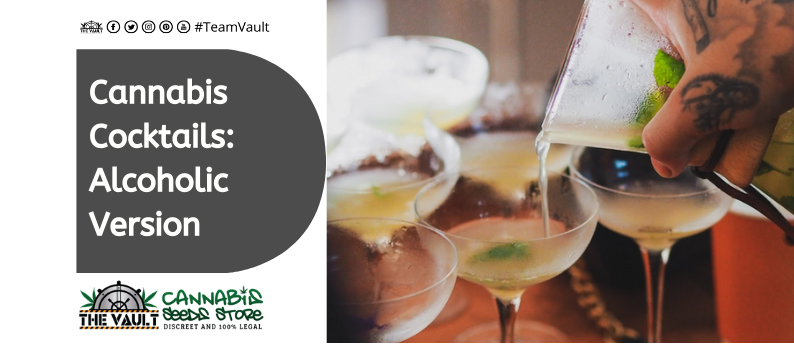 In a previous article, we covered a few non-alcoholic cocktail recipes that could easily be infused with cannabis. Today we are stepping everything up a level and looking at a few cocktail recipes with a little more of a punch to them. As we get closer to Christmas, and for many of us that suddenly means less than it did last week, things are going to get a little more stressful. When better to try mixing substances that when we can't leave the house? On that note, please proceed with caution and maybe try one of the alcohol-free cocktails before diving into the boozy boys.
In order to infuse the alcohol with cannabis we just follow the normal rules of decarbonisation. Then instead of combining it with butter or oil we simply make it a little baby cheesecloth tea bag and let it sit in the chosen liquor for a few days. So let's get started with what is essentially a list of all of my favourites. Quite a few of these will benefit from the assistance of a cocktail shaker.
Martini
This may be a simple one but my goodness are they perfect for stress or depression. Nothing lifts my spirits and makes me feel festive like swanning around clutching a dry gin martini. Of course, martinis are made to taste so this recipe is just a guideline.
All we need is:
50ml of Cannabis-Infused Gin
10ml of Dry Vermouth
Lemon Twist (or olive if we're feeling vintage)
Depending on whether we prefer our martinis shaken or stirred will change where we put the ingredients. For now, let's follow in the footsteps of a particular fictional secret agent and go with shaken.
Take your martini glass and either fill it with ice or pop it in the fridge to chill. Then fill your shaker around three quarters with ice, then add the vermouth. Close the shaker and give it a good old rattling. This will coat the ice with the vermouth and then if like me, you prefer your vermouth as no more than a whispering presence somewhere in the memory of your martini, we can just pour out the excess. Add the gin and shake again for 15 seconds. If you are feeling the lemon vibe add a little zest into the shaker and give it another 10 seconds. Add a twist of lemon or a single olive to your glass and pour in the gin. Voila, a classic martini with a special secret ingredient.
Old Fashioned
This is a perfect sitting by a fire cocktail, also for pretending to sit by a fire which can be just as nice.
All we need is:
50 ml of Cannabis-Infused Bourbon
1 Dash of Orange Bitters
2 Dashes of Angostura Bitters
Orange Peels
A Teaspoon of Sugar
For this one we are going to use a mixing glass and stir our ingredients together. Don't worry this isn't special equipment, it is literally a regular tumbler that we are going to mix things in.
Start off by chilling a separate tumbler with ice or in the fridge. Then in the mixing glass put in the dashes of bitters with the sugar and squish it all about until it makes a sort of paste. Add the cannabis bourbon and give it a really good stir with some ice. Have a taste to make sure the flavours are well mixed then strain into the chilled glass. Rub the rim of the glass with orange peel then pop a twist in as a garnish.
Cosmopolitan
These are the very best cocktails for feeling fancy, something about a pink drink just really ups my confidence.
All we need is:
37.5 ml of Cannabis-Infused Vodka (or citrus vodka)
12.5 ml of Triple Sec
30 ml of Cranberry Juice (if you want to use citrus vodka it may be better to cannabis infuse the juice flavour wise)
½ Lemon of Juice
12.5 ml of Sugar Syrup
As always start by chilling your cocktail glass in the fridge or with ice. Then we whip out our trusty cocktail shaker and just throw everything in with some ice. Shake it all about for roughly 15 seconds and strain into the glass. If we want to get really fancy, and I think we do, we gently flame a twist of orange peel and add it to the glass. This is one of the times where the garnish actually really changes the flavour of the drink, I highly recommend it.
White Russian
Let's finish with something tasty, filling and that we probably won't accidentally drink too many of. These are the perfect cannabis cocktail for after-dinner relaxation, a tasty little replacement for dessert. For this drink we can cannabis infuse the cream, the instructions for this can be found in this article. If that seems too much like hard work, just stick with the cheesecloth teabag in the vodka.
All we need is:
37.5ml of Cannabis-Infused Vodka
25ml of Coffee Liqueur
15ml of Cream (potentially cannabis-infused)
15ml of Milk
Chocolate Powder
1 Coffee Bean
First, we pour the coffee liqueur into a tumbler and pop it in the fridge to chill. Then pop the rest of our ingredients into our cocktail shaker with ice. Give it a thorough shake for around 10 to 15 seconds. Add ice to your coffee liqueur glass then pour ingredients in. Sprinkle with chocolate powder and pop the coffee bean on top.
Of course with all of these delicious recipes, we must be careful. Many people find that combining cannabis and alcohol does not agree with them, so please consider trying to alcohol-free versions first or at least proceeding with caution. The infusion method will work with any alcohol, we simply need to make sure it is left to soak for at least a couple of days to get any real effect. This means you can pretty much make any of your favourite cocktails with a lovely little twist. Enjoy!