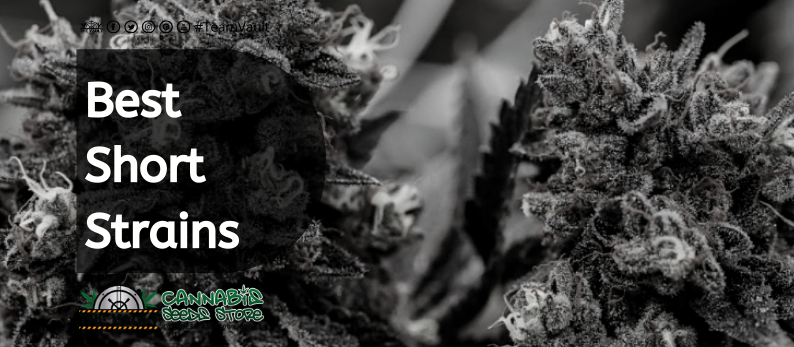 There are lots of reason to favour short or dwarf strains. One of the primary ones being their discreet nature. For those of us who aren't lucky enough to live out in the country, these little plants are perfect for balconies and gardens without being super obvious to potential nosey neighbours. For indoor growing, they are by far the best option. Most of us probably don't have access to a large indoor growing area so dwarf plants will fit nicely into cupboardy type spaces. Dwarf plants still usually produce great yields and as many of them are autoflowering they are usually ready for harvest in no time. These are just a few of the best dwarf plants on the market, but there are too many to fit into one list.
Grapefruit Auto
This lovely little autoflowering bundle is fruity, fun and packed full of THC. She works best as an indoor strain and will be ready for harvest after just 8 – 9 weeks. Her THC content is around 19% and she has a focused yet calming effect which makes her great for recreation and for medicinal use. She is recommended for those suffering from epilepsy, glaucoma, pain, arthritis, asthma, PSM, stress, multiple sclerosis, migraines and nausea. So basically she can pretty much do anything. She is exceptionally compact, despite producing around 400 g/m2 she is only 60 – 90cm in height.
Stardust Auto
This is another fast-flowering, super tiny strain who is also easy to grow. She also has pretty high THC at 17%, with a relaxing but creative high. She is a great strain for afternoon use, especially of a weekend if there is some sort of project that needs finishing. Stardust Auto is perfect for indoor growing and produces impressive yields despite her size. She will only reach 40 – 60 cm in height but still produces around 100 – 250 g/m2. She will only take 7 – 8 weeks from germination to harvest. As if all of that weren't enough her relaxing creative high comes with a lovely berry skunk scent that improves the overall smoke experience.
Casey Jones
Casey Jones is a strain with a good bit of history under her belt, and she has definitely made a name for herself. It probably helps that her name is already famous, but still. Her effect is calming and uplifting with an impressive THC level of 18 – 20%. She doesn't produce the biggest yield but she does produce top quality buds and she's very easy to grow so perfect for beginners. She has a spicy and pungent scent with a hint of diesel. She will only grow to 150 cm and will flower in 55 – 60 days.
Russian Fuel Auto
This strain is a micro Sativa and is famous for developing massive yields of top quality strains. It is also extremely hardy and easy to grow which makes it perfect for beginners. The high is relaxing yet uplifting, but not too energetic. Basically, it gives a general sense of calm and well being. As a result, it is both recommended as a medicinal and recreational strain. It is also good for creative pursuits or going for a lovely walk. The flavour and scent of the strain are a mix of strawberry, peach, and raspberry with a hint of diesel. Russian Fuel Auto will grow to around 80 cm and will take 9 – 10 weeks to flower.
Super Silver Haze
This strain is well known in the cannabis community for a number of reasons. She is a multi-award winner who took 1st place at the High Times Cannabis Cup three years in a row. She is a powerful hybrid with an uplifting and euphoric effect that is ideal for Sativa lovers. She is also energetic and creative which makes her a great day time strain and a perfect strain for motivation. Medicinally she is used by those suffering from chronic pain and loss of appetite. She was created when three legendary strains were brought together; Northern Lights, Skunk #1 and Haze. Her THC level usually sits at an epic 25% and her yields are impressive. Though her horizontal growth is minimal she does tend to spread out a little so will need horizontal space. She grows to a maximum of 150 cm and has a flowering time of 63 days.
Red Dragon
Red Dragon is another excellent dwarf Sativa that has a high THC level and a decent CBD level. The THC sits at around 22% and the CBD around 1- 5%. The effect is relaxing but uplifting as well as being long-lasting and giggly. She is named for her colour which is a beautiful deep red as well as her scaly-looking buds. Red Dragon is a combination of West Himalayan Kush and Utopia Haze. Her buds will be large and completely covered in resin. She is a fast flowering strain that only takes 55 – 60 days from germination. Her usual height is around 80 – 90cm when grown indoors.
Power Plant
Let's finish on a plant that is exactly what it claims to be. This strain is powerful in a number of ways, she is a vigorous grower and has an impressive level of THC. Usually, the THC level sits between 15 and 20%. Her effect is uplifting and cerebral but still relaxing. This makes her a great chilling out strain and ideal for those suffering from depression, pain or stress. She is Sativa dominant and produces large yields of crystal covered buds. Usually, she will grow to around 65 – 100 cm depending on her growing space. She takes a minute to get going but once she does she will be ready to harvest in just 8 weeks.
These are just a few of the many amazing dwarf strains available, there are still loads of different ones out there. As always it's important to do plenty of research and ensure we find the perfect strain for our individual gardens.
Remember: It is illegal to germinate cannabis seeds in many countries including the UK. It is our duty to inform you of this fact and to urge you to obey all of your local laws to the letter. The Vault only ever sells or sends out seeds for souvenir, collection or novelty purposes.
Make sure you never miss another Vault promo and sign up for our newsletter at http://goo.gl/Bt2Ba2
*Image from Unsplash